Why myLogistics?
"Don't be forced into high-risk options!"
Companies today are forced into two high-risk options for supporting their logistics technology needs...develop the product in-house, or purchase off-the-shelf. Both options create many issues including:

Risk #1 Develop In-House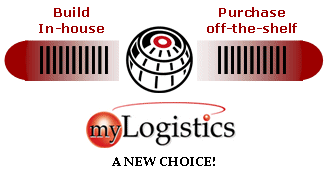 Long Development & Testing
Loss of Internal Resources
(IT & Engineers)
Continual Maintenance Efforts
Risk #2 Purchase Off-the-Shelf
Large Licensing Fees
Long Implementations
Extensive Training Periods

myLogistics offers a better way by providing affordable technology designed to meet your specific needs. Companies can pick their own mix of in-house development and/or turnkey solutions providing multiple modules and solution sets.


Eliminate the risk!

Proven product, field tested.
Affordable technology, low entry point.
Custom designed for your needs.
We compliment your internal development team.
Maintenance, upgrades, testing, etc. are continuous with no risk to your business.
Immediate return on your investment (ROI).
"Quality Solutions by Design"